• backhanded • camera • colorism • compliments • filipino • filters • kayumanggi • morena • philippines • tiktok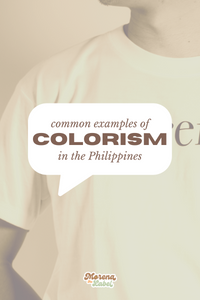 "Sus, normal na lang 'yan. Hindi ka pa ba nasanay?" 🔊 Colorism has been highly considered as a normal situation in the country — the derogatory remarks we hear, the unfair representation we see, the whitening soaps we scrub on our skins, and the discrimination we experience. According to Laforteza (2022), our colonial history, particularly on how the American, Japanese, and Spanish colonizers deeply reshaped our identity, should be traced to understand the deeply-rooted colorism. It is just a natural, everyday encounter but for us, it is not just that. It is our own skin and culture that are at...
---
• beautyph • kayumanggi • morena • philippines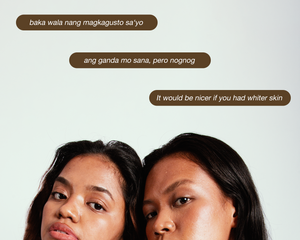 Why do we give so much unsolicited advice to people, especially kayumanggis? Do we think that they aren't able to handle our uniqueness or are they guilty of making a bad first impression? Well, let me tell them something. It's not our place to do that.  It seems like everywhere you go, there's always advice given. Maybe it's someone telling you to do something they say they don't want to do. Or maybe they give you advice that helps or gives guidance even though it's not what's best for you or the situation at hand.  The worst part about these...
---
• colorism • filipino • kayumanggi • morena • ph
Here comes Mx. Sun! Have you ever heard of the word sun-kissed? Aside from the fact that it is rooted from the sun itself, it is indeed interesting that there is more to the narrative. With all the advancements around us, we also derive new slang definitions from the existing ones.  According to the Merriam-Webster Dictionary, it has two primary definitions: being abundant with sun and the beautiful exposure of skin to sunlight. Meanwhile, did you know that the sun is the most colossal matter in our solar system, as articulated by the National Aeronautics and Space Administration?  Relevant to...
---
• ben and ben • colorism • filipino • kayumanggi
It might not seem like it now, but if you go down in history, indigenous or pre-colonial people of the Philippines valued their dark skin as spiritual and celebrated it through sacred ceremonies and rituals. This is also mentioned in a recent blog post by Maika Llaneza in Sojourners that claimed it was through the sun that they get spiritual energy from… Sunkissed, if you may.  Kidding aside, it feels ridiculous thinking about the Filipino representation of yesteryear when only fair-skins were on the big screen. Until now, the Filipino media is dominated by those of lighter complexion which is...
---
Written by Iyah Caisip 🤎   A Morena's Place in the Digital Space A melanin-loving online community? Count me in. You've probably heard the term safe space one too many times and might have even used it yourself. Whether to provide comfort for a friend or groups of people that find a debate too upsetting– a supportive environment is crucial especially for the cruelty that the social network breeds. https://twitter.com/_niccololeano/status/1115857921395625992?s=20   Those are only a few among the many ill-mannered jokes that netizens regard as a comedy while completely dismissing the fact that brown skin is an important representation of...